Published on:
October 20, 2022
Mission to save critically endangered vultures
Mission to save critically endangered vultures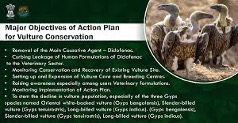 Why in news?  
The Tamil Nadu Government formed a State-level Committee to set up an institutional framework for the effective conservation of vultures, which almost went extinct in the country at the beginning of the 21st century.
Highlights
Alarmed at the 96% decline in India's vulture population between 1993 and 2003, the Central government put into place two action plans to protect the species at the national level the first in 2006 and the second, ongoing plan for 2020-2025.
One of the important action points in this nationwide plan is the formation of State-level committees to save the critically endangered population of vultures.
In Tamil Nadu, four species of vultures are found — the Oriental white-backed vulture, the long-billed vulture, the red-headed vulture, and the Egyptian vulture
The first three are residents and can be found in the landscapes of the Nilgiris and Sathyamangalam
There is evidence of Egyptian vulture breeding only at one site in Dharmapur
White-rumped vulture/Oriental White backed vulture
Habitat : It is an Old World vulture native to South and Southeast Asia
IUCN status : Critically Endangered
White-backed vulture
It is an Old World vulture in the family Accipitridae, which also includes eagles, kites, buzzards and hawks
Habitat : It is the most common vulture species in the continent of Africa.
IUCN: Critically Endangered
Long billed vulture
It is also known as Indian Vulture
Habitat :Native to India, Pakistan and Nepal
IUCN: Critically Endangered
It breeds mainly on hilly crags in central and peninsular India. The slender-billed vulture in the northern part of its range is considered a separate species.
Red-headed vulture(Asian king vulture, Indian black vulture or Pondicherry vulture)
Habitat: is an Old World vulture mainly found in the Indian subcontinent, with small disjunction populations in some parts of Southeast Asia.
IUCN: Critically Endangered
What is the main reason for death of vultures in India?
Indian vultures died of kidney failure caused by diclofenac poisoning.
Conservation Efforts at the national level:
Recently, the Ministry for Environment, Forests and Climate Change launched a Vulture Action Plan 2020-25 for the conservation of vultures in the country.
It will ensure minimum use of Diclofenac and prevent the poisoning of the principal food of vultures, the cattle carcasses.
The Vulture Safe Zone programme is being implemented at eight different places in the country where there were extant populations of vultures, including two in Uttar Pradesh.
To upscaling conservation four rescue centres will be opened like Pinjore in the north, Bhopal in central India, Guwahati in Northeast and Hyderabad in South India.
The ministry has now also launched conservation plans for the red-headed and Egyptian vultures, with breeding programmes for both.