Published on:
October 20, 2022
MSMEs can claim benefits post re-classification
MSMEs can claim benefits post re-classification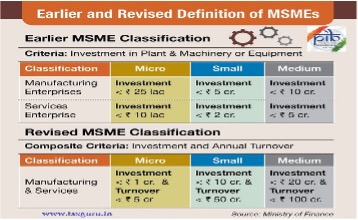 Why in news?
Micro, small and medium enterprises will continue to receive non-tax benefits for three years despite moving above the investment and turnover threshold.
Highlights
There decision, the government believes, will incentivise MSMEs to invest and grow.
In case of an upward change in terms of investment in plant and machinery or equipment or turnover or both, and consequent re-classification, an enterprise shall continue to avail of all non tax benefits of the category (micro or small or medium) it was in before the reclassification, for a period of three years from the date of such upward change,"
They have remained 'dwarfs' fearing the loss of benefits if they invest more and grow beyond the threshold.
Many MSMEs who are growing fast, fear the loss of certain non-tax though very critical benefits available to micro and small enterprises under the MSMED Act 2006.
The government decision is a major incentive to all small enterprises.